To help Contributors promote their elements in a better way and gain more exposure, Collections will be removed.

Instead, you can use the Favorites folders to showcase selected works to potential buyers or visitors to your Contributor page. You can group together elements under the same subject matter/ theme in a folder and share this folder or embed it on your website. Read more about Favorites folders here.
------
Collections is a selected group of your elements, bundled and sold at a package price. This encourages buyers to make larger purchases from your portfolio.
You can create Collections from any of your existing Elements.
For Collections to be attractive to buyers, create Collections based on a coherent theme or from elements that are complimentary to each other.
How to create a Collection?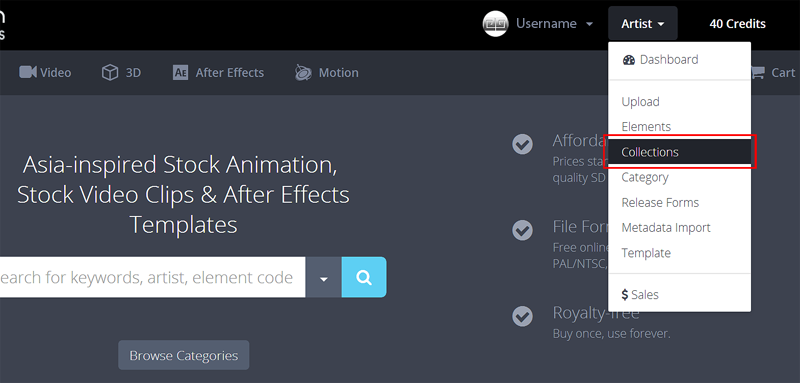 3. Provide the following information:
Name
Description, including keywords
Price
Tick Publish for Sale to start selling the collection
Click Save.
4. Drag and drop your newly created Collection to the relevant Elements.
All Elements in a Collection must be of the same media type.
5. To view the Elements within a specific Collection, click All Collections.
Select from the dropdown list.
6. To remove an Element from a Collection, click x beside the collection name.
7. Click pencil icon to edit, publish or delete the Collection.
Limitations to Collection Size
- Maximum 20 Elements
Video Collection
Templates Collection
3D Collection
- Maximum 50 Elements
Music Collection SFX Collection