FTP upload is available for Video, Music, VR360, Photo / Vector, 3D Model.
For other media types such as Templates (After Effects Template, Premiere Pro Template, Motion Graphics Template, Apple Motion Template), please upload via our website.
1. Go to Upload page.
2. Select FTP in Video, Music, VR360, Photo / Vector, 3D Model upload page.
3. Set up your FTP account.
Username will be the same as your MotionElements username.
Choose a different password from your MotionElements login for added security.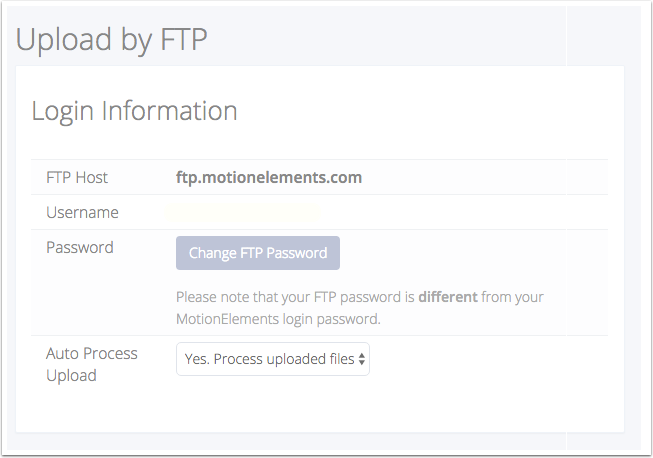 4. Auto Process Upload
Choose to manually manage your uploads and covert them to Elements, or allow the system to do this for you.
Download and setup FTP software
On your FTP program provide the following details:
Username: (your MotionElements Username)
Password: (your FTP Password)



Select the FTP host which works best for your location.

Default / USA
FTP Host: ftp.motionelements.com

If you are from Europe
FTP Host: ftp.eu.motionelements.com



Setup Encryption
On your FTP software, set your encryption to "Require explicit FTP over TLS" to ensure your privacy is protected.