Artists who sell through multiple online marketplaces can upload to MotionElements by using Picworkflow, an online image (and footage) management service for stock photographers.
Here is a guide to set up and successfully upload your footage to MotionElements:
Set up account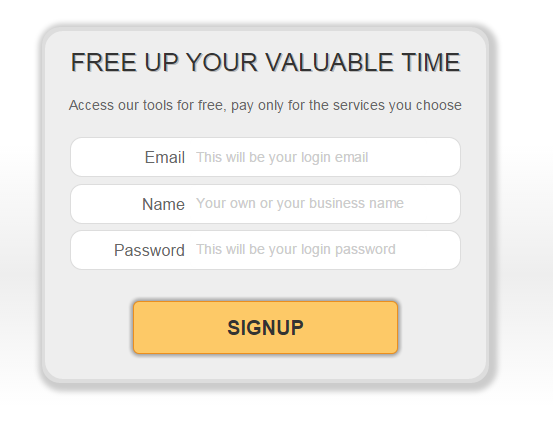 2. Click Distribute images to your agencies.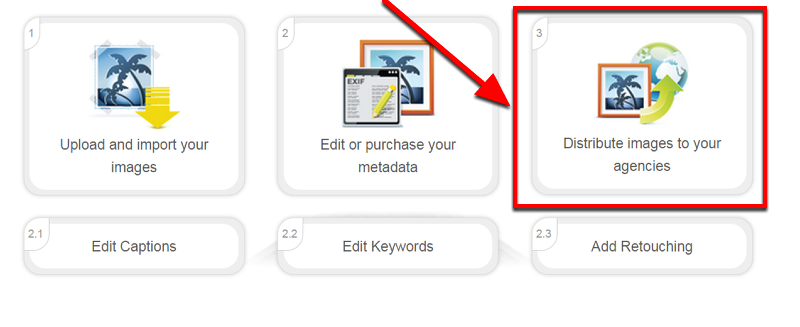 3. Click
Manage Agency Logins.



4. Look for MotionElements and click Add Login.

5. Enter your MotionElements username and password. You will also need to enter your Picworkflow Master Password (different from the Picworkflow login). If you do not have a Master Password, you can key in your Master Password at the top of the screen.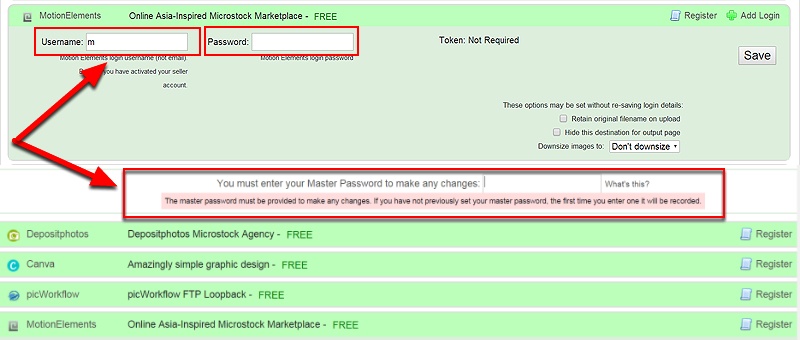 6. Save to complete setting up MotionElements as a destination for your Picworkflow account.
7. Click Test to confirm Picworkflow can connect to MotionElements.
Upload your files
1. Select Import. Click Upload and import your images.
Footage and template files should be uploaded with .jpg previews.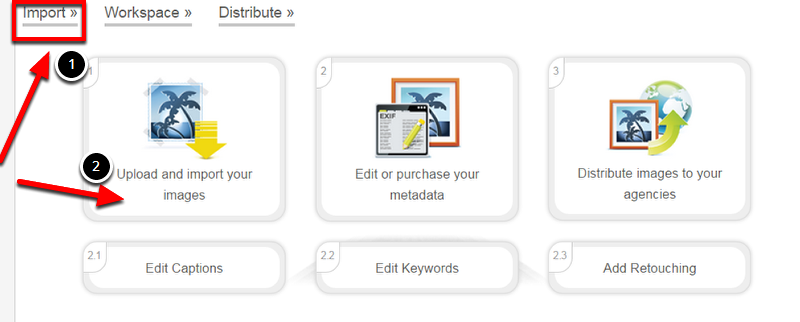 2. You can upload via Flash or FTP.

2.1 Click Upload via Flash. A box in green will appear, click Select Files.
An explorer window will pop up. Select the file/s that you wish to upload and click Ok.
The site will begin uploading your files. You can track its status using the progress bar.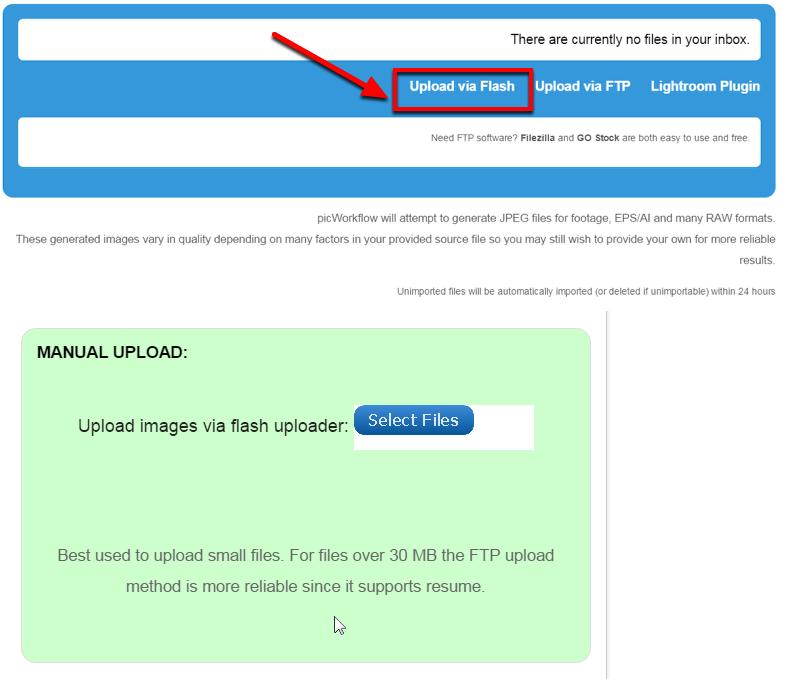 2.2 Click Upload via FTP. A Pop up box will appear requesting you to enter your username and password.
All Picworkflow users are given a specific FTP Username which can be found in the FTP DETAILS pane.
Input these information to your preferred FTP program to connect to Picworkflow. You can also use Windows Explorer for FTP.
Once connected, copy your content into the destination folder within the Picworkflow server.
3. Once transfer is completed, your content should be present in the IMPORT FILES pane. Refresh the page if the uploaded content is not visible.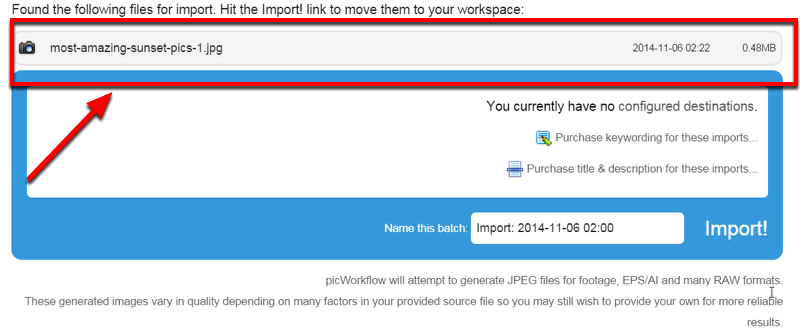 4. Click Import to begin generating preview files and the import process.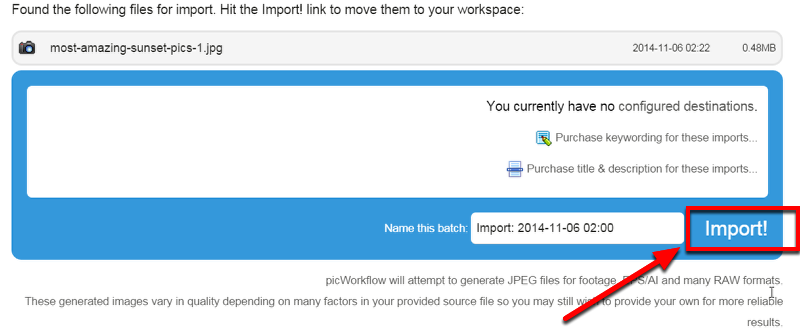 5. Click Workspace to edit your media properties.
Your imported files will be visible on the Workspace page. For images, users can edit the title, description, and copyright field by selecting the Edit button.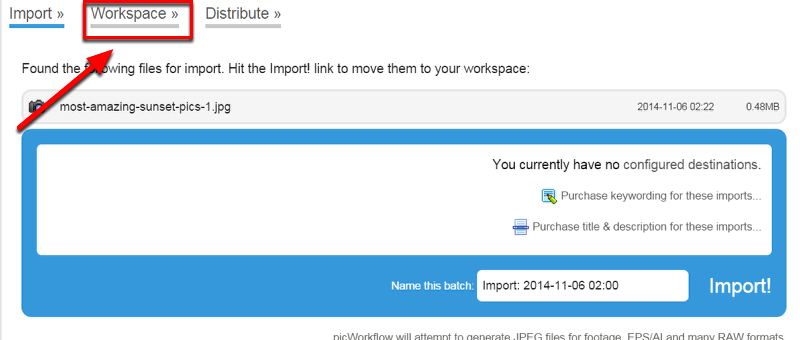 Storage Expiry
Users are given 7 days to store content in Picworkflow for free.
Users can extend the expiry date by spending Picworkflow credits.
Storage expiry of imported content can be checked in the Workspace page.
Once expired the source file will be deleted from the Picworkflow servers.
Distribute your works
1. Click Distribute to start dispatching your files to agencies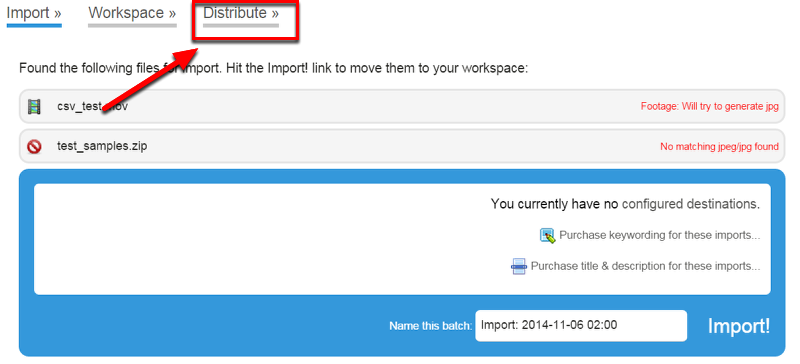 2. On the Distribute page, click the round buttons to add footage to the distribute queue. Enter your master password to complete authorization of distribution.

3.Your files' status will now be Pending Upload and Picworkflow will distribute your files to MotionElements as well as other selected destinations.
Check the status of your files upload by cross referencing it to the Status Legend provided on-page.
Done!
You will receive a notification email from Picworkflow once your files are successfully delivered to its destinations. Check your uploaded files for Motionelements at Manage my Uploads page.